Welcome to the world of awe-inspiring beauty and unparalleled golfing experience at The Boulders South Golf Course in Scottsdale, Arizona. Nestled amidst the breathtaking Sonoran Desert landscape, this remarkable golf course offers a harmonious blend of natural wonders and exceptional design. In this article, we invite you to embark on a journey of exploration as we uncover the remarkable features and experiences that make The Boulders South Golf Course truly exceptional.
A Captivating Oasis in the Desert. Embracing Nature's Marvels
The Boulders South Golf Course stands as a testament to the sheer beauty and resilience of the Sonoran Desert. Immerse yourself in the picturesque surroundings, where towering saguaro cacti, ancient boulder formations, and vibrant flora create a striking backdrop for your golfing adventure. This remarkable synergy between the course and its natural environment sets The Boulders South Golf Course apart from others, offering an unparalleled sense of serenity and tranquility.
Award-Winning Course Design
Designed by the renowned golf course architect, Jay Morrish, The Boulders South Golf Course captivates players with its ingenious layout and challenging play. The course features 18 masterfully crafted holes that wind through the captivating desert terrain, offering an invigorating test of skill and strategy. Each hole presents its unique challenges, ensuring an engaging and memorable golfing experience for players of all levels.
Impeccable Course Conditions
At The Boulders South Golf Course, meticulous attention is given to maintaining world-class playing conditions. The manicured fairways, pristine greens, and strategically placed bunkers contribute to the course's exceptional quality. Whether you're a seasoned golfer or a newcomer to the sport, the superbly maintained course provides the ideal setting for an unforgettable round of golf.
Unmatched Amenities and Services
Beyond the golf course, The Boulders South Golf Course offers an array of luxurious amenities and services. Before or after your round, take advantage of the state-of-the-art practice facilities, including a driving range and putting green, to sharpen your skills. Indulge in a rejuvenating spa treatment at the award-winning resort spa or savor delectable culinary creations at renowned onsite restaurants. The commitment to delivering unparalleled excellence extends to every aspect of your visit, ensuring a truly extraordinary experience.
Exclusive Golf Memberships
For those seeking a truly immersive golfing experience, The Boulders South Golf Course offers exclusive membership opportunities. By becoming a member, you gain access to a range of benefits, including priority tee times, special rates, and invitations to exclusive member events. Immerse yourself in a vibrant community of fellow golf enthusiasts and unlock a world of unparalleled golfing privileges.
Membership Categories for Every Lifestyle
The Boulders South Golf Course offers a variety of membership categories tailored to suit diverse lifestyles and preferences. Whether you're a full-time resident or a seasonal visitor, there's a membership option designed to meet your specific needs. Choose from options such as individual, family, corporate, and social memberships, each providing unique privileges and access to the course and its exceptional amenities.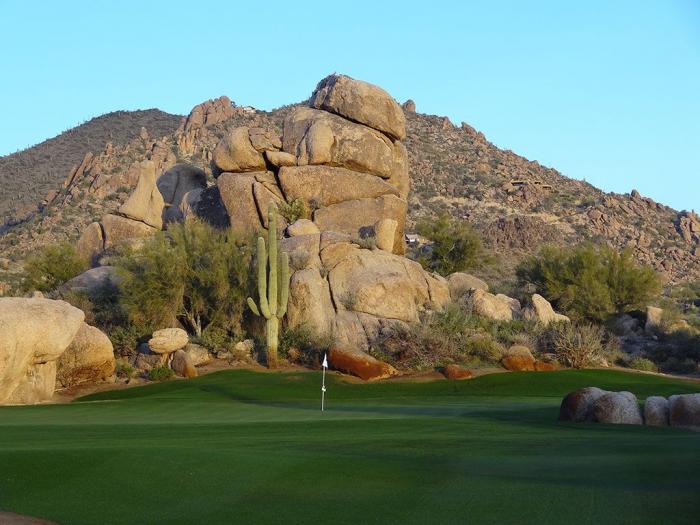 Plan Your Unforgettable Visit Today with Golf Getaways and Stay & Play Packages
If you're looking to experience everything The Boulders South Golf Course has to offer, consider indulging in a golf getaway or Stay & Play package. Immerse yourself in the ultimate golfing retreat by booking a luxurious accommodation at the esteemed Boulders Resort. These exclusive packages combine world-class accommodations with access to the extraordinary golf course, allowing you to make the most of your time in Scottsdale.
Unparalleled Event and Tournament Hosting
The Boulders South Golf Course provides an exceptional venue for hosting unforgettable events and tournaments. Whether you're planning a corporate outing, a charity tournament, or a special celebration, the professional event planning team at The Boulders South Golf Course is dedicated to ensuring a seamless and memorable experience. With stunning natural vistas as your backdrop and impeccable service at your disposal, your event is destined to be a resounding success.
Golf Instruction by Experts
For those looking to refine their golf skills or beginners eager to learn the sport, The Boulders South Golf Course offers expert instruction. The highly skilled team of PGA professionals is available for individual lessons, group clinics, and specialized programs tailored to your specific needs. Benefit from their wealth of knowledge and experience as they guide you towards mastering the game and achieving your golfing goals.
Elevate Your Golfing Experience with Unforgettable Golf Tournaments
Throughout the year, The Boulders South Golf Course hosts a variety of thrilling golf tournaments. From prestigious competitions to friendly matches, these events showcase the talents of skilled players and provide a platform for camaraderie and friendly competition. Participate in these captivating tournaments and create lasting memories as you challenge yourself on the remarkable fairways of The Boulders South Golf Course.
Pro Shop: A Golfer's Paradise
The Pro Shop at The Boulders South Golf Course is a golfer's paradise, offering a comprehensive selection of top-of-the-line golf equipment, apparel, and accessories. Whether you're in need of new clubs, stylish golf attire, or the latest golf technology, the knowledgeable staff will assist you in finding the perfect items to enhance your game. Step into the Pro Shop and discover a world of golfing excellence.
The Boulders South Golf Course in Scottsdale, Arizona, stands as a true gem among the golfing destinations of the world. With its captivating natural surroundings, impeccable course conditions, and unmatched amenities, it offers an extraordinary golfing experience that is sure to leave a lasting impression. Whether you're a passionate golfer seeking the ultimate challenge or a visitor looking to immerse yourself in the beauty of the Sonoran Desert, The Boulders South Golf Course will exceed your expectations at every turn.
Plan your visit today and witness firsthand the harmonious blend of nature and golfing brilliance at The Boulders South Golf Course in Scottsdale, Arizona. Unleash your golfing potential, indulge in luxury, and create memories that will last a lifetime.